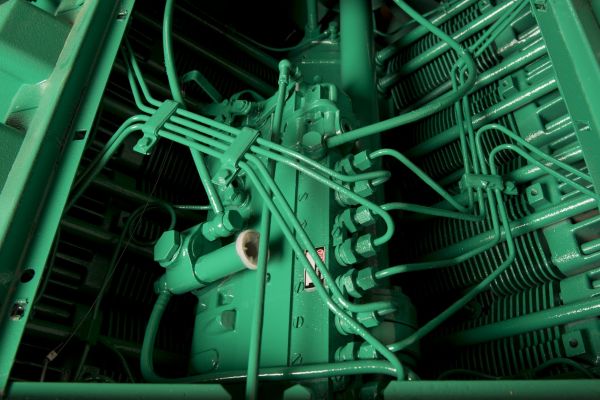 ENGINES ENDOTHERMIC cooled by forced air, designed by VM Motori we found the spare parts warehouse and production is still relevant today for over twenty years.


See more EMESOL.it (external link)

We have bought the rights to produce and stock spare parts of air-cooled engines that were previously produced by VM Motors. We are able to supply our services all around the world.

These endothermic engines have been produced for over thirty years for industrial use, this assures robustness, security, reliability, and functionality at all temperatures, in all environmental conditions, without controls. Air cooling, in the history of internal combustion engines, has been applied in various fields: from single-cylinder motorcycle engines to automobile engines, to more sophisticated engines like the "24 Hours of Le Mans." Small agricultural engines, of large power for the operation of machinery and industrial installations, to complex radial engines for aircraft. Air was chosen for the characteristics of this type of cooling: simplicity, reliability, low maintenance, and safe operation in critical conditions. With the air you can cool everything as long as you know the key points of each application and the critical points of the engines. Air-cooling systems already existed at the dawn of the manufacturing of these engines. The most powerful engine in the world with this type of cooling is still the V.12130 IS 550 hp which is at the top of the range of our production. Durability, longevity, and reliability superior to any other construction on the market remain the primary aim of the project, which is why, after many years of experience, technological progress has not changed the basic architecture of the family. As one of the basic objectives of product policy, the new engine series also retains the main morphological features involved in the concept of modularity and interchangeability. All the design efforts were concentrated on the renewal of the active parts, making the most of those recent developments in the technologies of acquired modern diesel engines, which had a decisive contribution to the experience and research.

The production of internal combustion engines consists of three main sizes:
- V6130 6-cylinder engines
- V8130 8-cylinder engines
- V12130 12-cylinder engines

All versions are available with turbo aspiration.

Motori industriali significa robustezza, sicurezza, affidabilità, capace di funzionare a tutte le temperature, in tutte le condizioni ambientali, anche senza controlli. "Progettare industriale " significa ancora estendere a tutti i clienti il margine di sicurezza che l'utente più severo ha imposto per il suo particolare impiego. Il raffreddamento ad aria, nella storia del motore endotermico, è stato applicato nei settori più disparati: dai motori motociclistici ad un solo cilindro, ai sofisticati propulsori automobilistici per la "24 ore di Le Mans", dai piccoli motori agricoli, a quelli di grande potenza per l'azionamento di macchine e impianti industriali, fino ai complessi motori stellari per l'aviazione. A seconda dei casi si è scelta e sfruttata una delle caratteristiche peculiari di questo tipo di raffreddamento: la semplicità, l'affidabilità, la ridotta manutenzione, la sicurezza di funzionamento anche in condizioni estreme e critiche. Con l'aria si può quindi raffreddare tutto; purché si conoscano i punti chiave di ogni applicazione e i punti critici dei motori. Unità raffreddate ad aria esistevano già agli albori della fabbricazione di questi motori. Il più potente motore al mondo, sempre con questo tipo di raffreddamento, è ancora oggi il V.12130 I-S da 550 CV che si colloca al vertice della serie della nostra produzione. Robustezza, longevità e affidabilità superiori ad ogni altra realizzazione sul mercato restano lo scopo primario del progetto; per questo, dopo una lunga esperienza d'esercizio, il progresso tecnologico non viene a modificare l'architettura base della famiglia. Secondo un indirizzo che rientra tra gli obiettivi di fondo della politica di prodotto, la nuova serie di motori mantiene inalterate anche le principali caratteristiche morfologiche che intervengono nel concetto di modularità e intercambiabilità. Tutto l'impegno progettuale si è concentrato nel rinnovamento delle parti attive, ponendo a frutto quelle recenti evoluzioni maturate nelle tecnologie del motore diesel contemporaneo, che hanno avuto un contributo così determinante dall'esperienza e dalla ricerca.

La produzione dei motori endotermici si articola su tre taglie principali:
- V6130 (motori a 6 cilindri)
- V8130 (motori a 8 cilindri)
- V12130 (motori a 12 cilindri)

Tutte le versioni sono disponibili sia in configurazione aspirata che turbo.
I motori diesel raffreddati ad aria EX VM sono adatti a svariati usi industriali quali generatori di corrente, alimentazione motopompe, macchine tagliapietra e vari altri utilizzi anche in condizioni estreme.